5th Grade Reading & Language Arts
Courses:
Reading
Language Arts
My name is Shatima Kemp. I am so excited to be a 5th Grade Teacher at Daniel Pratt Elementary School. I am from a small town called Beatrice, AL. After graduating high school, I started to pursue a career to become a registered nurse. I received my associates degree from Alabama Southern and was accepted into Auburn University of Montgomery nursing program. After much thought, I finally decided to pursue my passion, teaching. I graduated with my Bachelor's of Childhood Education in May of 2019. This is my first year teaching! I recently moved to Elmore County. I have two children, Jesiah and Jayda, who I adore. When I am away from school, I love spending time with family, and enjoying the outdoors.
J. F Shields High School
2012
Alabama Southern Community College
Associates of Science 2015
Auburn University Montgomery
Bachelors of Science Childhood Education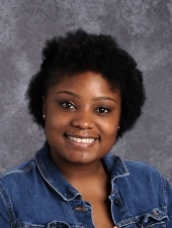 What's Happening In Reading
Anauthor may write similar details about different things or people. You can use these similar details to make a general statement that covers all things or people. This statement is called a generalization. A valid generalization can be supported by facts or details. a faulty generalization cannot. Sometimes an author makes a generalization and uses a clue word such as all, many, or generally to signal it.
Reading Vocabulary
| | | | |
| --- | --- | --- | --- |
| 1. | economic | | of or about the management of the income, supplies, and expenses of a household, government, etc. |
| 2. | independence | | freedom from the control, influence, support or help of others |
| 3. | overrun | | to spread over |
| 4. | scrawled | | to write or draw poorly or carelessly |
| 5. | vacant | | not occupied |
What's Happening In Lang. Arts
Adverbs tell more about verbs. They explain how, when, or where actions happen. Many adverbs that tell how end in -ly. Adverbs can appear before or after the verbs they describe.

How- The time passed slowly. The dog waited patiently.
When- Travelers seldom stopped. Yesterday the stage came.
Where - Settlers moved westward. They built a town here.
Some adverbs tell more about an adjective or another adverb:
Mining towns sprang up very quickly. They were terribly noisy.
Comparative adverbs compare two actions. Add -er to form a comparative adverb. Superlative adverbs compare three or more actions. Add -est to form a superlative adverb. If an adverb ends in -ly, use more or most instead of -er or -est.
Comparative Adverb-
Miners worked harder than storekeepers.
Superlative Adverb-
Farmers worked hardest of all. They depended most completely on the land and weather.
What's Happening in Spelling
Unit 5.5
Greek Word Parts

1.telephone 2.graphic
3.thermometer
4.photographer
5.centimeter
6,paragraph
7.telescope
8.diameter
9.photocopy
10.speedometer
11.telegraph
12.millimeter
13.autograph
14.television
15.barometer
16.telecommute
17.pedometer
18.phonograph
19.kilometer
20. telephoto

Challenge Words
21.telecommunication22.autobiography
23.calligraphy
24.odometer
25.photosynthesis
Spelling City
https://www.spellingcity.com/users/mskemp5
Quizlethttps://quizlet.com/mskemp5
ReadWorks

How to get students to their assignments
1. Have students go to www.readworks.org/student
2. Students enter class code S26A5K
3. Tell your students that their default password is 1234
Note: Students can change their passwords when they log in, and you can change student passwords on this page.
The format that I will be using for the remainder of the school year will be Google Classroom. Each student should have received an invite to join my Google Classroom. When students log in, they are to use their google account.
Google Sign-In Information
email:firstname.lastname@acboe.net
password:ACS#
For example:
Student Name: Billy Bob
Billy's Student Number: S123456
Billy Bob's Login Information
Email:billy.bob@acboe.net
Password: ACS123456
You can also join by using the class code: h7ibmdk
Please join Ms.Bradley's class as well.
History Class Code: hhmiuhg
Science Class Code: nnbrc5b
If you need help logging in, please feel free to email me.
Classroom Rules and Expectations
Respect Yourself and Others
Keep Our Classroom Neat and Clean
Listen and Follow Directions

Students will adhere to the Autauga County Board of Education Code of Conduct

Consequences:

I will keep my behavior chart, on which I will note any misconduct that occurs each day during the week. It corresponds with my classroom rules and expectations. If rules are not followed, I will address the situation and mark it on my chart. If a student has three or more marks on my chart for the week, a parent note will be sent home. Notes must be signed and returned the following day. If problems continue to occur, a phone call will be made. If students continue to misbehave or be disruptive after and note or a phone call, a parent/teacher conference will be scheduled during my planning period. Should there be any other problems after these steps have been followed, an office referral will be written. Severe misbehavior will elicit immediate action as needed.
Class Schedule
8:00-8:10 Homeroom/Character Education
8:10-9:35 Reading Whole Group and Small Groups
9:35-9:50 Snack
9:50-10:35 Planning Period
10:35-11:45 Language Arts
11:45-11:55 Transition
11:55-12:02 Reading Whole Group. & Small Groups
Lunch: 12:02-12:25
12:25-1:45 Reading Whole Group and Small Groups
1:45 -2:50 Language Arts
2:50-3:00 Character Education Wrap-Up & Dismissal
Library- Flexible Times
Music/Technology- 10:40-11:15
Bi-weekly (Tuesdays)