5th Grade Math, Science, and History
Courses Taught:
5th Grade Math, Science and History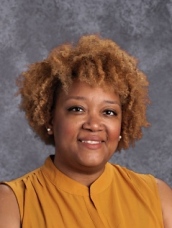 Hello! My name is Andre'a Myers and I am a Prattville Native! I attended Prattville schools from Kindergarten through High School, so it is a great honor to be teaching fifth-grade another year at Daniel Pratt Elementary School. I am looking forward to another wonderful year of doing what I love, TEACHING! My goal is to allow all of my students to feel and become confident mathematicians, scientists, and historians because learning new things should be fun and exciting!
In my time away from school, I love spending time with my 14 year old son, Kamran, and soon to be 4 year old son, Korbin. We are all sports fanatics, so you may see me at a lot of sporting events. My hobbies are playing basketball, Zumba, supporting Kamran and my students at their games, reading, traveling and fiddling with new technology. I am an avid collector of elephants and love the color purple.
Thanks to all of my parents and students in advance. If I can be any assistance, please feel free to contact me through email: andrea.myers@acboe.net
Ms. Myers
T

ogether

E

veryone

A

chieves

M

ore
7:45-8:05 Homeroom/Char. Ed
8:05-9:30 1st Block- Math
9:30-9:35 Math block class change
9:35-9:50 Snack
9:50 - 10:35 P.E.
10:35- 11:45 1st Block-history/Science
11:45-11:55 Class change
11:55-12:10 2nd Block Math
12:15-12:38 Lunch
12:45-1:40 2nd Block Math (Continued)
1:40-1:45 Math block class change
1:45- 2:50 2nd Block History/Science
2:50- Dismissal
**Music and Technology will alternate on Tuesday's 1:45-2:30**
~STATES AND CAPITALS TEST DATES~
BELOW YOU WILL FIND ALL OF THE DATES FOR THE STATES AND CAPITALS TESTS:
This time, students will have to LOCATE the states on a blank map. Students will need to be familiar with the state abbreviations for all 50 states. We will continue to test by region, adding a new region each time we test.
ALL OF THE STATES/CAPITALS TEST WILL BE LOCATED ON A BLANK MAP
Southeast Region Test: January 28 (TAKEN)
Southeast and Northeast Region: February 20
Southeast/Northeast/Midwest: March 11

Southeast/Northeast/Midwest/RockyMountains: April 8
All 50 States and Capitals (Pacific and Southwest): May 6

*Pacific and Southwest will be added to final test*
Here is the link to the video we watched in class: