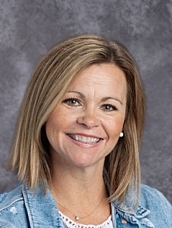 Mrs. Marks' First Grade
Schedule 2020-2021
8:00-8:25 Homeroom/Character Education
8:25-10:45 Language Arts/Reading
10:45-10:59 Science/SS
10:59-11:24 Lunch
11:24-12:00 Science/SS
12:00-12:10 Read Aloud
12:10- 12:55 Calendar/Math
12:55-1:35 PE
1:35-1:50 Snack
1:50-2:40 Math Rotations
2:40-3:00 Dismissal
My name is Amy Marks and I teach first grade at Daniel Pratt Elementary. This is my 16th year teaching and my 15th year at Daniel Pratt Elementary. I am very happy to be here. I have received my bachelor's degree from Auburn University in Montgomery, as well as my master's degree in Reading Education. I live in Prattville with my husband Chris and two boys, Collier 10, Mason 7! I'm very energetic about teaching and I look forward to growing and learning with your child everyday this year.
o Unit 2 Review
o Unit 2 Reading Test
o Unit 2 Sight Word Assessment
Reading Skills: Digraphs sh, th; Vowel sound in ball; Long a, e, i, o, u; Letter c that sounds like/s/ and letter g that sounds like /j/; Digraphs wh, ch, tch; Main idea; Contractions n't, 'm, 'll; Sequence; Inflected ending 'ed; Cause and Effect; Compare and Contrast; Syllables VCCV; Author's Purpose; Long vowels (CV)
Grammar Skills: Nouns; Proper Nouns; Special Titles; Days, Months, Holidays; One and More Than One; Nouns in Sentences
Please review Unit 2 Sight words in your child's binder. I will assess all students by Friday. If your child masters Unit 2 words move to Unit 3!

J

Please continue to read with your child together at home. Your child may read a book independently or you may read with them.
o Skills: Unit 4 Place Value
o Skills covered this week include Building Teen Numbers: Tens & Ones; and Greater Than/Less Than.
o Please practice addition facts using flash cards, manipulatives, etc at home.
o Timed Test- Friday (practice)
This week in Social Studies…
o New Year Goals/Winter