Courses Taught:
Math,

History,Science
8:00- 8:10 Homeroom/Character Ed
8:10-9:10 Science/History Block I
9:15- 9:55 PE
10:00-10:15 Snack
10:15-10:20 Math Block Transition
10:20- 11:40 Math Block I
11:40-11:50 5th Grade Transition
11:50-12:04 Begin Math Block II
12:04-12:27 Lunch
12:27-1:45 Math Block II (Continued)
1:45-1:50 Math Block Transition
1:50-2:50 History/Science Block II
2:50- 3:05 Wrap Up/Dismissal
Important Dates to Remember:
Character Trait: RESPECT
September 2022
September 27th- 5th grade Parent Night
September 28- See You At the Pole 7:00 AM
October 2022
Character Trait: Caring
October 3rd -14th- Cooke Dough Fundraiser
October 10th- Fall Break- NO SCHOOL
October 12th- Walk to School Day
October 14th- Picture Make-Up Day
October 17th- Report Card Day
October 24th-28th- Red Ribbon Week
October 28th- Parent Lunch Day
October 28th- RISE Celebrations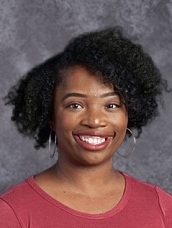 Ms. Bradley's Wish List
I would appreciate any extra help getting these supplies. I understand that supplies are costly at the beginning of the year, so any donation you can give is greatly appreciated. Thank you for all your help and support. I could not do this without the support of such wonderful parents!! :)
White Copy Paper
Color Copy Paper
Hand Sanitizer
Clorox Wipes
Paper Towels
Tissues
HP 63 Ink (black and color) **HIGH PRIORITY**
Ziplock Bags- Boys (Gallon) Girls (Sandwich)
Band-Aids
Trash Bags (13 Gallon)
Glade Plug-ins "Clean Linen" scent
Kid Friendly Board Games
Individually wrapped candy (Starburst, Peppermint)
**ANY EXTRA SUPPLIES ( notebook paper, glue sticks, crayons, markers, highlighters, scissors, etc.)**
Bradley Math Students:
Graph Paper Composition Notebook
Douglas Open House, Friday, August 5th-9:30 am-10:15 am
Bradley Open House, Friday, August 5th-10:30 am-11:15 am
Mrs. Douglass and I will give short presentations detailing classroom information you need to know. We will also have any documents that need to be signed available to you.
BELOW YOU WILL FIND ALL OF THE DATES FOR THE STATES AND CAPITALS TESTS:
This time, students will have to LOCATE the states on a blank map. Students will need to be familiar with the state abbreviations for all 50 states. We will continue to test by region, adding a new region each time we test.
ALL OF THE STATES/CAPITALS TESTS WILL BE LOCATED ON A BLANK MAP
Southeast Region Test: August 31
Southeast and Northeast Region: September 21
Southeast/Northeast/Midwest: October 12

Southeast/Northeast/Midwest/RockyMountains: November 2
All 50 States and Capitals (Pacific and Southwest): December 1

*Pacific and Southwest will be added to the final test*
Here is the link to the video we watched in class:
Week of September 19- September 23
Place Value
Monday- Multiplying Whole Numbers (Traditional) HW given
Tuesday- Multiplying Whole Numbers (Traditional)

Wednesday- Multiplying Whole Numbers (Traditional) HW given
Thursday- Multiplying Whole Numbers (Traditional) HW given
Friday- Topic 3 Study Session
timed test #6 (graded)
Identifying and Interpreting Maps
Monday-Native American Test Review
Tuesday-
Wednesday- SE/NE States and Capital Test
Native American Test Review
Thursday-
Friday- Native American Test
*continue to review for SE States and Capitals test *
The Nature of Science
Monday-
Tuesday- Part II: Lesson 1/ HW given

Wednesday-

Thursday- Part II: Lesson 1/ HW given
Friday-

ONLINE HOMEWORK ASSIGNMENTS
Students will have homework assignments that are both online and in the science book. To log in online, please visit
Pearson Savvas Science

Username: firstname.lastname (jane.doe)
password: pass4321
**THIS INFORMATION IS ALSO WRITTEN IN THEIR SCIENCE BOOK**
My name is Alanna Bradley and I am your new 5th Math, Science, and History teacher. I am so blessed to have an opportunity to teach at Daniel Pratt Elementary and to teach your child. I grew up in the Birmingham area and I currently reside in Montgomery, AL with two cats, Dash and Dixie. I am a graduate of Alabama State University with a Bachelor's Degree in Political Science. GO HORNETS!! I also received my Master's Degree in Elementary Education from The University of Montevallo. I am a highly qualified teacher and certified to teach grades K-6. Some of my favorite things: Almond Joy, Chick Fil A, Coca-Cola, traveling, teaching Zumba, my family, my friends, and teaching 5th grade!!
I am really excited about this school year! Let's work together to make this a fantastic year!