5th Grade Math, History, and Science
Courses Taught:
Math,

History,Science
GOOGLE CLASSROOM !!
website: classroom.google.com
Below you will find all the class codes for each class. Please check student school emails for the the invite that I sent to them.
*codes are lowercase only*
*MATH CLASS CODE: ekbsc7w
*HISTORY CLASS CODE: hhmiuhg
*SCIENCE CLASS CODE:nnbrc5b
Work will be posted soon!!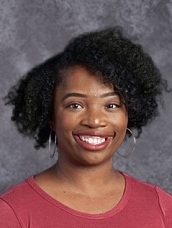 Students and Families,
Please know that I miss you all so much! I really do! :) I hope that you all are taking this time to relax and enjoy time with family. With that being said, I want you to also make use of this time away from school.This is an unprecedented time for us all, so please bear with us as information comes in each day. I am going to list a few reminders below of things that you need to do while we are on extended break!
Math- When we return, we will continue working on Mean, Median, Mode and Range. We will review and you will have a test on Thursday, April 10th.
We will move on to Measurement the following week. Please begin to review weight and capacity conversions. We will also look at metric and customary measurement.
PRODIGY- I have added review to help prepare for the ACAP state test in April!
THIS IS AN EXCELLENT RESOURCE FOR STUDENTS!
**I WILL AWARD 5 POINTS FOR EACH DAY THAT YOUR CHILD COMPLETES PRACTICE**
I am able to see who logs on and if they have completed the days session. Ill be watching :) Please email me if your child has forgotten their log in information.
Science- PLEASE CONTINUE TO RESEARCH YOUR ECOSYSYEM!!
This was assigned to you BEFORE THE BREAK and there will be no exceptions if work is not completed. You should have your rought draft sheets with you in your binder, but if you do not, please copy all research onto a piece of notebook paper or copy paper. DO NOT RETURN TO SCHOOL WITHOUT YOUR RESEARCH!!
FIVE AREAS OF RESEARCH:
ABIOTIC FACTORS

(non-living organisms)

BIOTIC FACTORS

(living organisms)

WORKING TOGETHER

(How do abiotic and biotic factors work together in your ecosystem)

RECOMMENDATIONS

(Why should someone visit your ecosystem? What conservation efforts are being made to protect your ecosystem?)

FUN FACTS-

(These are facts that are not commonly known- be EXTREMELY RESOURCEFUL HERE! Search for the best fun facts!!)
Each area of research should include:
TITLE

(given above)

ILLUSTRATION

(drawings of each area)

CAPTION (describing what the illustration is about)

FIVE SENTENCES (discuss the areas mentioned above)
Finally, this is just a ROUGH DRAFT! The actual brochure will be given to you in class. We will not have class time to do research or work on this.
We will begin Chapter 5 when we return! This will need to be completed by Friday, April 10th!
History- Review the Quizlet link below for Chapter 9 and Chapter 10. We will continue our discussionon the Branches of Government and move into Westward Expansion. Log in and play against your classmates...or even me!!
Can you beat Ms. Bradley?!
I know this was/is a lot of information but I wanted to make sure that you all had all the information that you need. Please feel free to email me if you need anything. :)
I LOVE YOU!!
Alabama State University- Bachelor of Science-Political Science, May 2007
University of Montevallo- Master of Education- Elementary Education, May 2012
2012-2013 -5th and 6th grade teacher- Cahawba Christian Academy- Bibb County
2013-2014 -3rd grade teacher- Daniel Pratt Elementary- Autauga County
2014-present-5th grade- Daniel Pratt Elementary-Autauga County
My name is Alanna Bradley and I am your new 5th Math, Science, and History teacher. I am so blessed to have an opportunity to teach at Daniel Pratt Elementary and to teach your child. I grew up in the Birmingham area and I currently reside in Montgomery, AL with two cats, Dash and Dixie. I am a graduate of Alabama State University with a Bachelor's Degree in Political Science. GO HORNETS!! I also received my Master's Degree in Elementary Education from The University of Montevallo. I am a highly qualified teacher and certified to teach grades K-6. Some of my favorite things: Snickers Bars, Chick Fil A, Coca-Cola, traveling, hand lettering, my family, my friends, and teaching 5th grade!!
I am really excited about this school year! Let's work together to make this a fantastic year!
MARCH 16- MARCH 20
Character Trait: Trustworthiness
March 18- Report Cards
March 23-March 27- Spring Break
April 17- Reading Night with Big Mo'-
~STATES AND CAPITALS TEST DATES~
BELOW YOU WILL FIND ALL OF THE DATES FOR THE STATES AND CAPITALS TESTS:
This time, students will have to LOCATE the states on a blank map. Students will need to be familiar with the state abbreviations for all 50 states. We will continue to test by region, adding a new region each time we test.
ALL OF THE STATES/CAPITALS TEST WILL BE LOCATED ON A BLANK MAP
Southeast Region Test: January 28 (TAKEN)
Southeast and Northeast Region: February 20 (TAKEN)
Southeast/Northeast/Midwest: March 11 (TAKEN)

Southeast/Northeast/Midwest/RockyMountains: April 8
All 50 States and Capitals (Pacific and Southwest): May 6

*Pacific and Southwest will be added to final test*
Here is the link to the video we watched in class:
COVID-19....What you need to know
7:45-8:05 Homeroom/Char. Ed
8:05-9:30 1st Block- Math
9:30-9:35 Math block class change
9:35-9:50 Snack
9:50 - 10:35 P.E.
10:35- 11:45 1st Block-history/Science
11:45-11:55 Class change
11:55-12:10 2nd Block Math
12:15-12:38 Lunch
12:45-1:40 2nd Block Math (Continued)
1:40-1:45 Math block class change
1:45- 2:50 2nd Block History/Science
2:50- Dismissal
**Music and Technology will alternate on Wednesdays 10:40-11:15**
Mean, Median, Mode,and Range
Monday- Combining Volume/hw given

Tuesday- Combining Volume/hw given
Wednesday- Combining Volume/hw given
Thursday- NO MATH- SCHOOL DISMISS AT 12
Friday- division timed test #8/Continue Review Packet
Reflex Math
Students will need to log in to Reflex Math and earn 3 GREEN LIGHTS each week. This will help your child review learned multiplication facts.
THIS IS NOT AN OPTION! I will check weekly for student progress.
Teacher Username: abradle3
Select your class.(Block I or Block II)
Find your name.
Password: (will be different for each student. Will be written on index card)
Prodigy Math Information:
Students may get on Prodigy AFTER they have reached 100% completion of Reflex.
To set up an account:
1. Go to www.prodigygame.com/play
2. Click New Student/ New Player
3. Enter Class Code: DD4F5C
**OUR PASSWORD IS SNICKERS*
Chapter 9: Creating a Nation
Monday- Branches of Government
Tuesday-
Wednesday-
Thursday-
Friday- Lesson 1/2 Quiz

Chapter 9 Quizlet Review
https://quizlet.com/_33w7o8?x=1jqt&i=976dc
Bill of Rights Quizlet
https://quizlet.com/_853uy6?x=1qqt&i=976dc
Preamble School House Rock (Remix)
Chapter 4: Ecosystems
Monday-
Tuesday- Ecosystem Brochure

Wednesday- Ecosystem Brochure

Thursday- Ecosystem Brochure
Friday-
ONLINE HOMEWORK ASSIGNMENTS
Students will have homework assignments that are both online and in the science book. To log in online, please visit pearsonrealize.com.
Username: firstname.lastname (jane.doe)
password: pass4321
**THIS INFORMATION IS ALSO WRITTEN IN THEIR SCIENCE BOOK**
Chapter 4 Quizlet Review